UFMCC is a 501(c)3 Religious Organization. Contributions or gifts to Metropolitan Community Churches are tax deductible as charitable contributions.
There are many ways to make a gift to MCC. You can write a check, use a credit card, or give appreciated securities to MCC. You can make a one-time gift or set up a monthly (recurring) gifts charged to a credit card. MCC also has a Cause page on FaceBook! Below are details for how to make a gift using different means.
Online
It's easy to give to MCC on-line. Due to enhanced security, MCC accepts Mastercard, Visa, American Express and Discover cards through PayPal.  NOTE:  You do NOT have to have a PayPal account to give!
Give by Shopping!
MCC is a registered iGive beneficiary.  iGive allows you to give a percentage of any online purchase – at no cost to you – at participating vendors.  Sign up for iGive today and start giving as you shop!  Click the image to get started…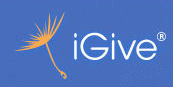 By Mail
Write a check made out to "Metropolitan Community Churches" and send it to our main office. If you intend the gift to be used for a particular ministry, write that in the check's memo line. Otherwise, the gift will be used where it is most needed.
Metropolitan Community Churches
PO Box 50488
Sarasota, FL 34232
By Phone (One-time and Recurring Gifts)
If you would like to discuss your gift, ask a question, or arrange a recurring gift, contact MCC's Development Office by email or phone.
Marina Laws – Development Office
(484) 885-8842
[email protected]
Gifts of Securities
MCC is able to accept gifts of stock using the services of Smith Barney. If you would like to give appreciated securities to MCC, please call or email the Development office:
Marina Laws – Development Office
(484) 885-8842
[email protected]